Every year around one million properties in Germany change hands. Every day, thousands of buyers, sellers, courts, buyers, creditors and debtors, as well as credit institutions make their asset dispositions and lending decisions dependent on sound valuation. Here we are in demand as real estate professionals.
We are the preferred contact person in Berlin if you would like to make a well-founded valuation before you make such important decisions as the sale of your apartment, your property or your own home. It is our foremost duty, for you as certified and certified Market Value Brokers, to conduct these valuations and all other related services.
Talk to us confidentially in advance – even before you become active.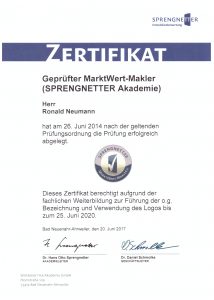 These topics should be negotiated among others:
How to determine the optimal selling price of your property
Which documents you absolutely need for the sale
How to get current sales documents
Which energy pass you need
How your property should best be presented to potential buyers
How Visits Are Made Convincing
How to Negotiate Price Negotiations
How to make sure the buyer can actually pay
What you should know to prepare for and sign the notarial sales contract
Just talk to us – we are just a phone call away.